The Book
Synopsis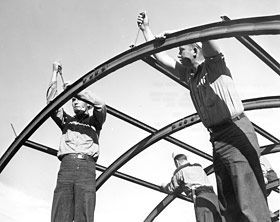 Seabees erecting a Quonset hut frame, 1951
Point Hueneme, California
Courtesy of the Navy Historical Center, Washington, D.C.
When World War II came along, the American military found itself in need of a prefabricated, lightweight shelter that could be easily shipped and quickly assembled. The Quonset hut, that sliced tube of corrugated metal, was the answer. More than 153,000 were produced as part of the war effort. In its aftermath, even more were built and existing huts were adapted to house the postwar population boom. Of course, it couldn't last: the American desire for permanence meant decay and neglect for many of these rough-and-ready shelters and quickie warehouses.
But in the midst of its almost tragic tale of extinction, the Quonset hut has emerged as an unexpected icon of Americana and an oasis of architectural imagination. Travel the back roads of America and you will find the Quonset's distinctive shape enclosing everything from houses of worship to houses of pancakes.
Quonset Hut tells the story of this unique architectural phenomena, from its birth during WWII as a mass-production shelter to its new status as an icon of American pragmatism, ingenuity, perseverance, and individuality.
Contributing authors include: Brain Carter, Chris Chiei, Julie Decker, Steve Haycox, and Tom Vanderbilt.